Join us for a Late Night Branson Country Music Show Featuring special Branson Mo appearances by Country Music artist Jason Gordon and Shelby Norene! Jason Gordon is celebrating the release of his new country single In Hometown U.S.A. See Jason Gordon perform In Hometown U.S.A. tonight September 14 in Branson, Mo at Branson Central Theatre Late Night!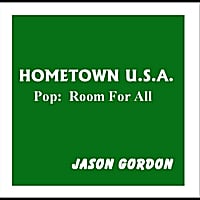 Jason Gordon (also known as The Voice of Country Music) has a rich country sound that fits many male country music legends including Conway Twitty, Johnny Cash, George Jones and many more. Jason Gordon has recently recorded old favorite hits and brand new country songs that are sure to please country music lovers which include Woman Sensuous Woman, The Auctioneer Song, Planet Honky Tonk and Jason Gordon's brand new song In Hometown U.S.A. Be sure to come out and hear Jason sing Live in concert.

Also appearing is new Country / Pop / Rock recording artist Shelby Norene Barnes, who sings pop country with a rock edge. Shelby features many popular female singers including Carrie Underwood, Dixie Chicks, Reba McEntire, Deana Carter, Jennifer Day and KT Tunstall. Shelby is currently working in the recording studio on her 1st Album / CD. Be sure to come out to Branson Central Theatre Late NIght to hear Shelby's newest Country / Pop / Rock crossover titled, Denim and Diamonds.
Dance in Branson Mo this weekend at Branson Mo's Largest Nightclub featuring Branson's Largest Dance Floor and Friday night drink specials! Recording artist Jason Gordon and Shelby Norene Barnes will be performing Friday September 14 and Saturday September 15, 2012 at Branson Central Theatre in Branson, Mo. Visitors to the Branson Mo Table Rock Lake area are welcome to join us and dance the night away to some great entertainment! Branson Central Theatre is located at 625 State Highway 165, Branson, Mo.

Jason says, "I want everyone to be able to enjoy a great Branson show so tickets are priced $5.00 for everyone to come to the show. I invite you and your whole family to come to my Branson show for $5.00! Everyone is $5.00!"

Everyone is invited to this $5.00 Branson Country Classics Show at The Jason Gordon The Voice Of Country Music Show! For Branson Show Schedules or more information about The Voice Of Country Music Show click on the The Voice Of Country Music Show link below!

The Voice Of Country Music Show!